Everything You Need, In One Place
With over 40 years in rotational mould making we've learned the right materials to use to manufacture high quality and lasting rotational tooling.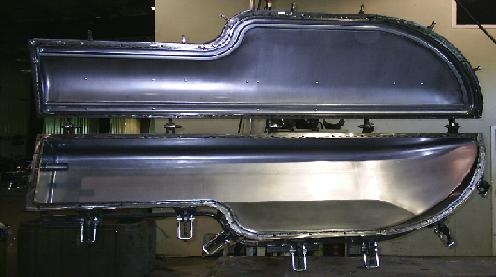 Manufacturing
We typically construct the body of our moulds using 12 gauge cold rolled steel. However, we're not bound to just this material. We can use a variety of thicknesses ranging from 18 gauge to 1/4" plate. We then proceed to strengthen all parting line seams with reinforcing key-stock. Next we hinge and clamp the moulds whenever possible. This comes highly recommended for larger production tools for its ability to vastly decrease a tools downtime, increase cycle times, and make it easier for laborers. We can also manufacture butt seams and nut and bolt closures if desired. All split lines are welded, then finished on the inside of the mould thereby making them virtually invisible on the plastic part. Structural tubing is then added for framework to add strength and structural rigidity to our tooling. This also doubles a mould protection. Also, with our extensive experience we are able to detect possible problems in your design such as plastic part removal, and shrinkage dilemmas. In addition, modifications and repairs to existing moulds are much easier, quicker, and cheaper. This is due to our ability to just add and remove sections without the need for recasting. This is extremely beneficial when your plastic part has to line up with something already produced, then modified at a later date.
Repair
The life span of our tooling is far superior to aluminum due to the strength of steel vs aluminum. Also when compared to other steel mould manufacturers, especially in rough environments, our moulds outlast. It's common to see 20+ years of service out of our moulds with just regular maintenance.